Day Five: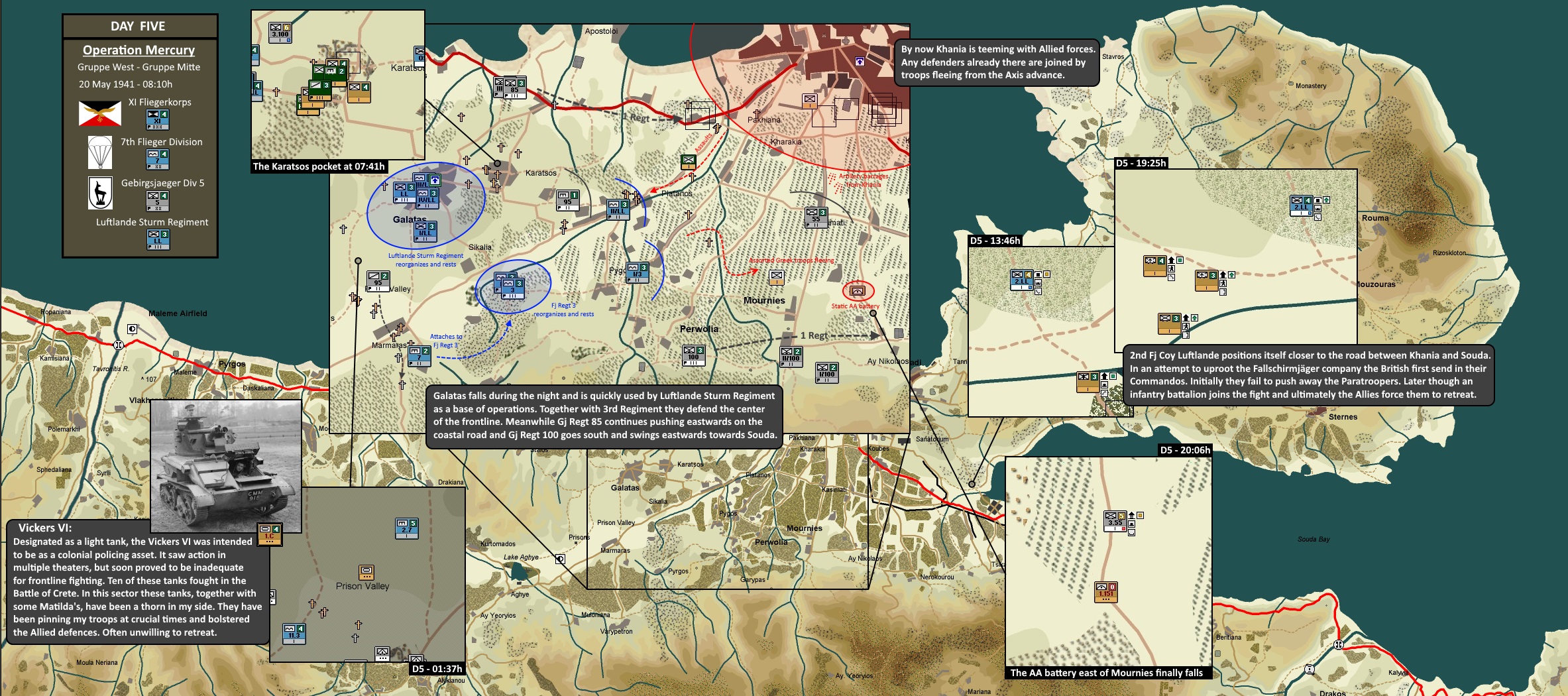 Operation Mercury - Day five
Day four has been largely successful. I didn't reach my objectives per se, yet I'm not far off. I let most of my troops have their rest, yet task one battalion to continue going for Galatas. III Fj Bn Luftlande forgoes sleeping during the night and slowly proceed deeper into the town. Minor skirmishes erupt, but the demoralized New Zealanders keep withdrawing eastwards.
At 01:37h the town is under our control.
With only some infantry companies still lurking in the outskirts.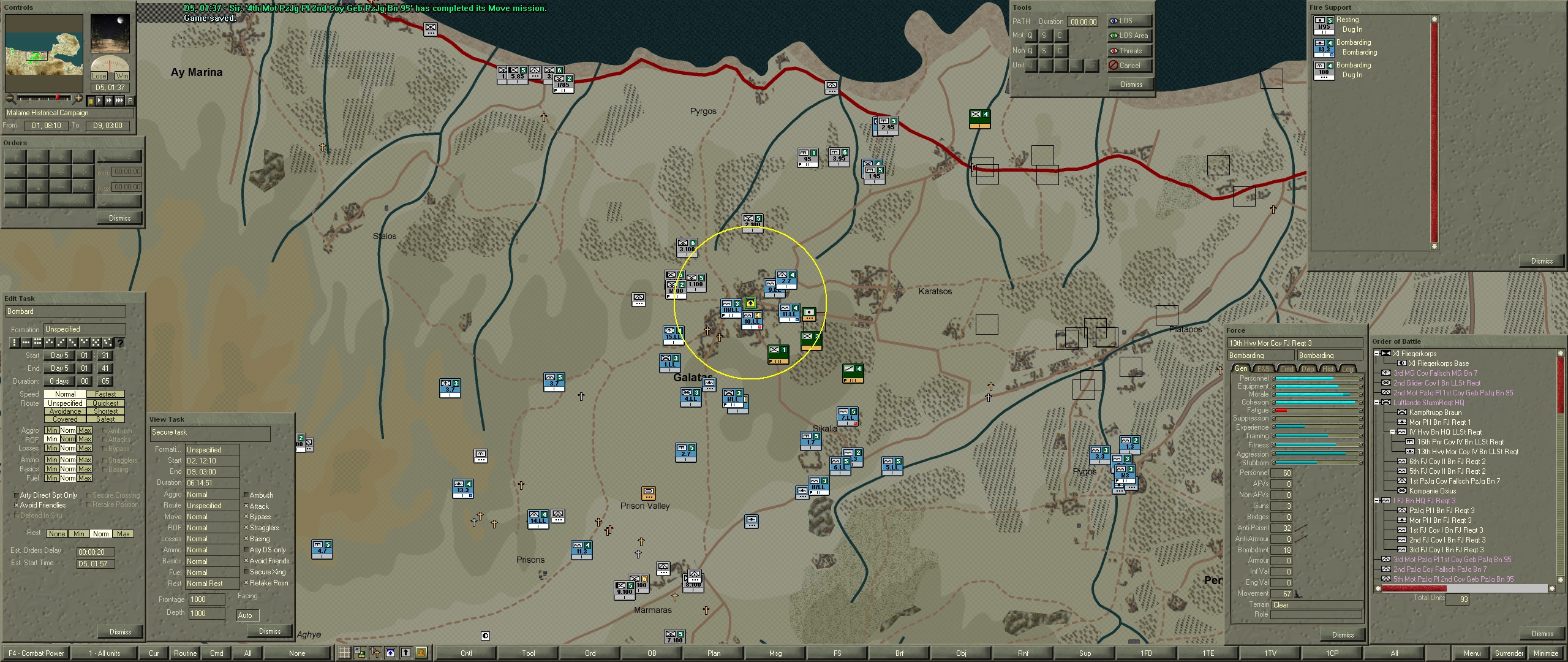 After a day of heavy combat Galatas is ours
By now there is still one single enemy unit in Prison Valley. It is the 3rd squadron Hussars tanksquad. Though it valiantly defended Marmaras and gave a couple of infantry units time to retreat it is now totally surrounded. By 03:00h the squad tries to make a run for it and heads north only to get shot at by one of my AT companies. Without any tanks the men try to head to safety but ultimately get caught by my frontline.
In the morning I let most of my paratroopers rest. They've done most of the fighting up to now and I want them back in fighting shape for the Assault into Khania. I do order the mountaintroops to keep up the pressure. All three available Gebirgsjaeger battalions are sent east. Fighting start at about 06:30h in the outskirts of Galatas. With daylight it also comes to my attention that 4th NZ Brigade Base lies undefended and within reach of an assault.
Companies Osius and Braun are tasked with the assault on the base.
Soon they dash across the hills of Karatsos and initiate the attack. They gain total surprise and the base is destroyed in a mater of hours. In doing so, they have also basically cut off a couple of Allied companies and created a pocket at Karatsos.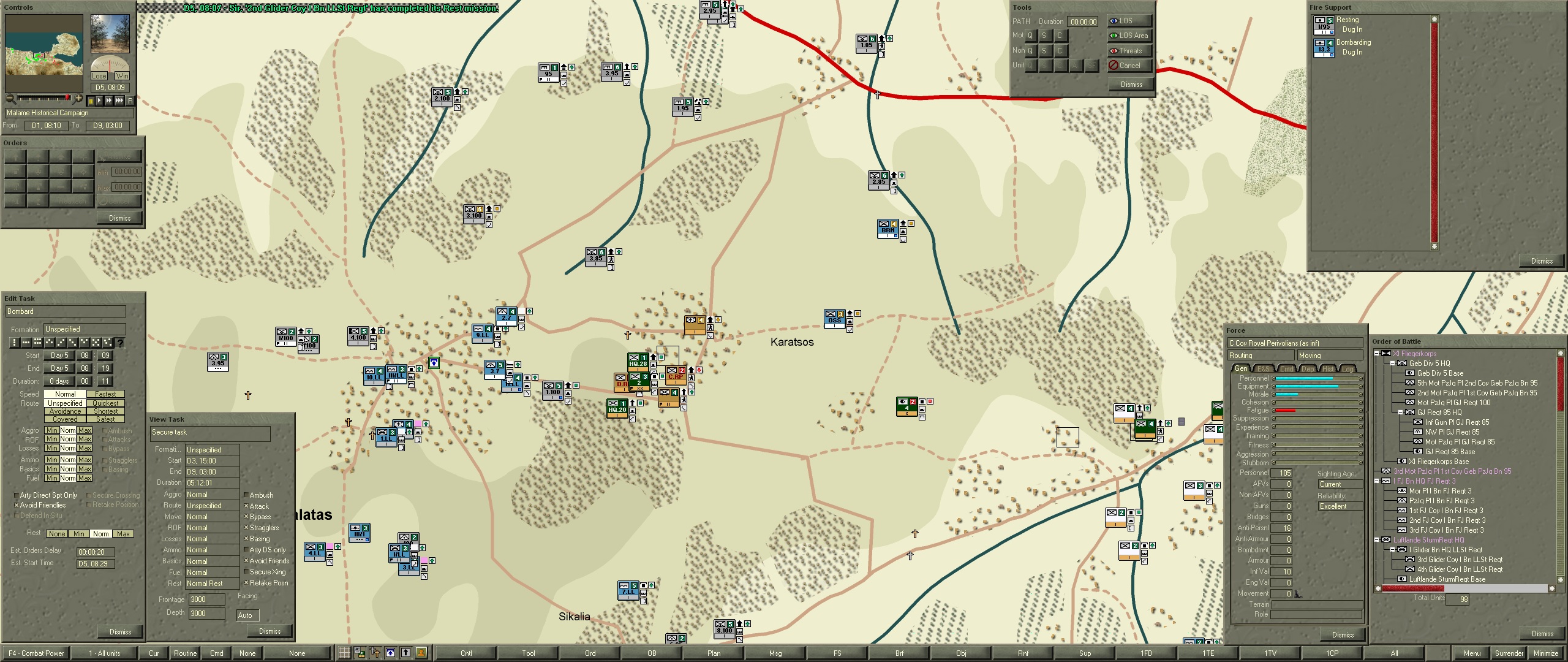 Companies Braun and Osius assault a brigade base, while another pocket is slowly forming at Karatsos
The mountaintroops slowly creep up and also start engaging entrenched units in Platanos. Before long this town is also being surrounded. Allied units soon notice though and some of the units start retreating to the northeast. Good thing the Krad Bn 55 had already slung itself to the east as I was planning to harry the Allies' flanks with them. They are in a prime position to strike and I immediately
send in 2nd Company Krad to harras the fleeing units.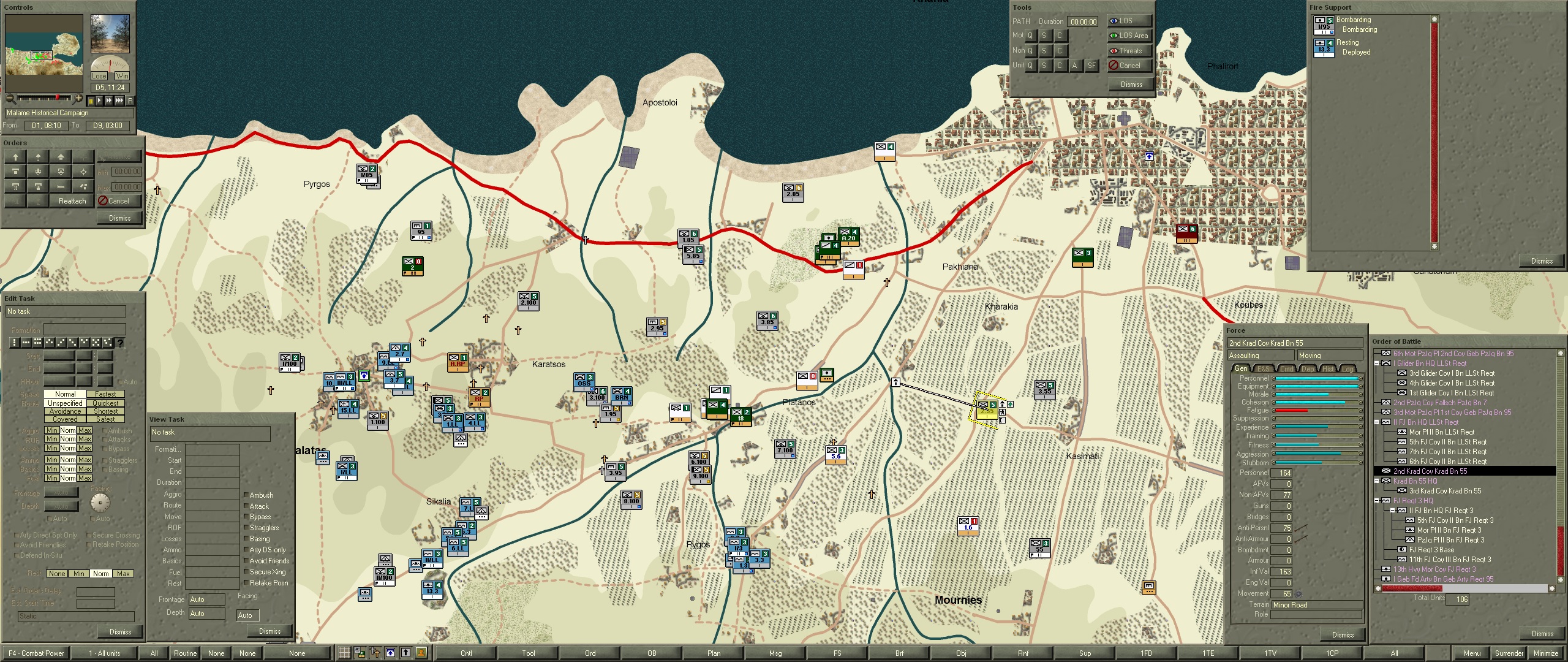 A motorcycle company is positioning itself on the escape route out of Platanos just as Allied forces are being pushed out of the town
By now the newly airlifted Gj Regt 85 is nearing the frontline and is ordered to keep things going on the coastal road west of Khania. By the end of the day they should be at the edge of the city. Both battalions of the Gj Regt 100 are reattached to their regimental HQ will now to take the southern roads towards Souda. All the while the Allies launch weak and uncoordinated attacks at Platanos. They are not effective and get repelled with ease.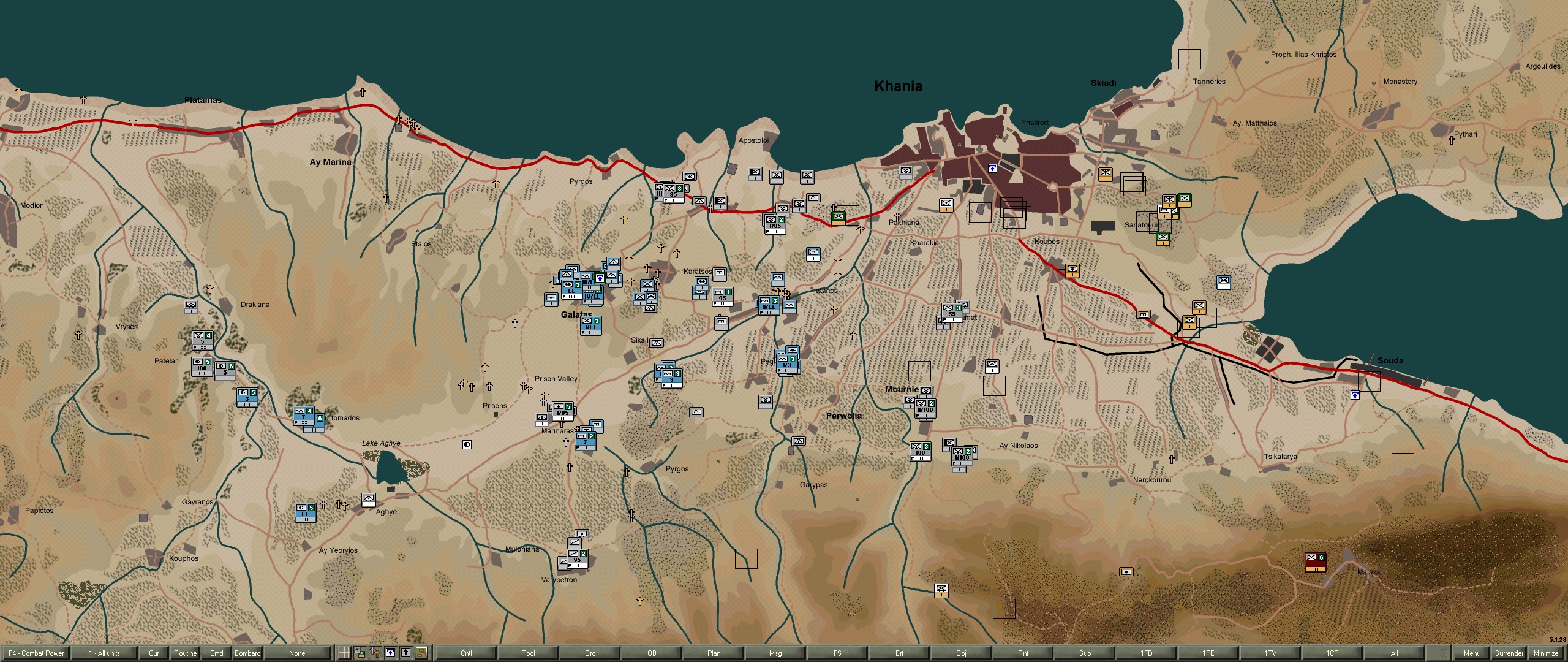 Operation Mercury - Day five around 21:01h
Before nightfall I reorganize my paratroopers and group them around their regimantal HQ's. After a tally Luftlande Sturm Regiment is in surprisingly good shape. Fj Regt 3 of Flieger Div 7 on the other hand is seriously beaten. This is still because of the bad drops from the start and the stiff resistance in Galatas. I decide to attach the division's engineer battalion to the regiment to give them some added strength. Either way the regiment will only be used in a backup role from here on.
Last edited: